Support the Wild Carp Trust by making a donation
The Wild Carp Trust is funded principally by people and organisations joining as a member or by making donations that support our conservation work.
Funds go towards protecting and securing fish in the wild, feeding and housing the young carp in our rearing facility and looking after the adult fish in our conservation pools. The remainder goes into our research programme that studies the growth rates and habits of these fish and reports on broader conservation work, and to our campaigns that generate public awareness and support for wild and feral carp.
How it works
Separate to joining as a member, you may wish to send a donation to support our conservation work. The amount and frequency of your donation is determined by you (the default is set to a recurring annual payment, but you can change the frequency to monthly or make a one-off donation). For context: £15 feeds and houses our young carp for a month, £50 buys four metres of otter fence, and £100 funds a conservation pool for up to six weeks.
Donations are currently processed by PayPal, which may require you to have a PayPal account.
Supporters' benefits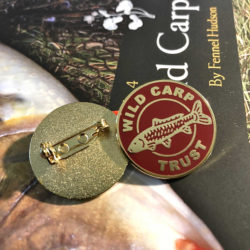 Donors who give £15 or more will receive a Wild Carp Trust pin badge. If you donate more than £100 you become a VIP Supporter and get personal briefings and invitations to special VIP events. Please enter your contact details when prompted if you would like to benefit in this way. By entering your email address, you will receive our quarterly newsletter that explains how your donation is helping to conserve the oldest strains of carp.